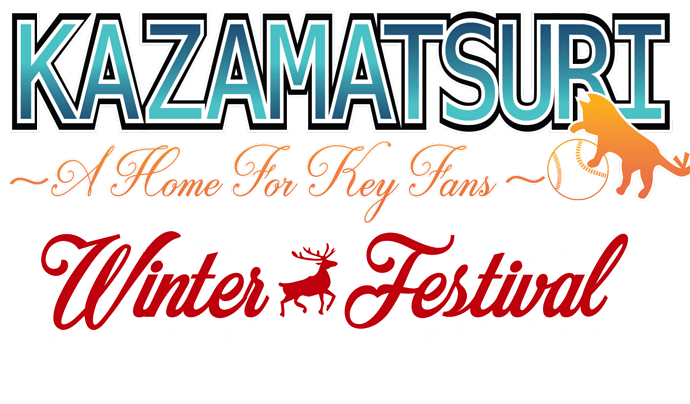 Welcome to the Kazamatsuri Winter Festival! Threads for each current and previous event are linked below, and more will be added throughout the festival. Remember, you don't necessarily have to participate in every event if you don't want to, but just making a submission will net you some Light Orbs. More detailed information on each event will be available in its respective topic.
Events
Key Orchestra Screening
No Game No Life Zero Screening
Tell Us About Your Team!
SSS Recruitment Drive
Kiron Chef
Key Trivia
Little Busters! Speedrun Competition
Record a Podcast
Design a Key Character
Birdwatching
Key Karaoke
CLANNAD Movie English Dub
Your Unlikely Ship
100% Orange Juice
Competitive "Naze Daaaaaaa"-ing
Create the next Kaza Emoji
Create a 4-koma
Best Boy/Girl Debate Topic
Key Character Voicemail
Write a Tanka
Spirit of Giving
Secret Hitler
Post your Christmas
Summer Pockets Ping Pong Tournament
Crossover Meeting
osu!
Anime Music Quiz
Make a new Discussion Topic
Key Fandub
Key Music Recognition Quiz
XOTY
Team Group Picture
New Years Party
KSL Live 2016 Viewing Party
Bad Anime Gauntlet
The Monthly Terra
Teams
Chocomint
TiduLimar
bionic
SAMAROST
Chesca
Nekotea
StarfishBender
LoliconEXE
Yuuichi
Arete
CLANNAD_Rewrite
Buff Busters
prototypeOEZ
Machelmore
Pepe
RyuuTamotsu
VyseGolbez
Shiro021
kyuketsukimiyu
emilevnp
Crottenis
Vitamin C
AustinDoujin
Artifedex
Mogaoscar
cjlim2007
Bernkastelle
Meyvol
BeanCurd
KaiMiang
Naoki_Saten
Team Happiness
Echo
TomoyaOkazaki
Phlebas
kittytama
WorldOfBooks
Madekuji_san
AdeptArcanist
SuikaShoujo
grooven
7 Likes
This sounds like soo much fun I would love to participate! For the gift exchange it's a bit too complicated because our postal system is on strike and there isn't tracking for parcels unless you pay 30 dollars for shipping. But otherwise I would like to try it :3
2 Likes
If it helps, please know that you can always ask for digital gift ideas or ask to see if the person who is your Santa with can work specifically with digital goods or slow shipping without tracking.
I'm not sure why Canada would want to be on strike now but I hope that doesn't become the reason that you can't participate.
1 Like
That is a good idea I think I could try that! I never thought of a digital gift. I could ask the person if they don't mind slow shipping too.
There's no rule against buying something online and having it shipped right to your person, especially in a situation like that.
1 Like
This looks really interesting! I'm short on money so I won't be doing the Secret Santa unfortunately, but I'd be more than happy to join in on the rest of the festival.
3 Likes
Already signed up and am hyped for the secret santa this year

(especially since I won't know who my santa is this time around)
2 Likes
Signed up and adding more to the Secret Santa list right after this. This would be my first time so not completely sure what to expect.
2 Likes
Bump! We'll be starting in about two weeks, so make sure to sign up.

1 Like
You folks better join this festival! You're seriously gonna regret it if you don't. It's set to be the biggest and craziest event Kazamatsuri's ever done, and it's all Kazamatsuri will be talking about for a month! You'll be part of history, and it's a great way to make friends.
Worried you can't commit? Don't be! The event is organised in such a way that it's virtually impossible to participate in every event. It's like a real festival, you go to the attractions you like and ignore the ones you don't. And your teammates will help cover you as well! It's all about filling in for each other's schedules and weaknesses. You don't have to be good at drawing or good at editing video or knowledgeable about Key, there will be plenty you can do regardless of your skillset!
With that said, I'm gonna tag some people I'd love to see join in! Feel free to poke your own friends and get them to join in too, the more the merrier! This is all about making fun memories together.
@Bizkitdoh @Bonecuss @Bernkastelle @Mitsuna @ArtiFedEx @kittytama @kiraboshi @technololigy @technohexen @kyuketsukimiyu @nekotea @Bowiie @Iotheria @epika @Rabla @rune_devros @RyuuTamotsu @BlackHayate02 @cjlim2007 @Ekalina @SymphoniaXX @ghagler @IkaCZ @Yerian
To name a few! I think you'd all have so much fun with this, please consider joining!
3 Likes
Oh yes, before the 15th is there anything we should be ready to do or ready to have? Thanks!
I'm still missing a decent headphone/microphone to avoid having to use the phone or borrowing said device from someone else for Discord voice chats for example.
Having a decent microphone is always a good idea to participate in online events! But it's by no means required. I think a big part of the fun though is just, seeing what happens and going with it. It's not the kind of event you need to prepare for, you just go with it!
1 Like
Not much time left to sign up! I'll be making the teams sometime this week.
I would really like to encourage everybody to join in, and I thank everybody who has signed up. We've been working hard to make this fun, and I can assure you it is going to be AWESOME!
2 Likes
This sounds so much fun! I would have love to participate if it wasn't for work being so busy for me during the holiday season.

Hopefully you guys will enjoy having a great time.
By my count we've currently got 28 events organised for the festival, just to give you guys a picture of what to expect!
Also please note that you will need to use Discord to participate in this event. I don't think we've made that clear enough.
EDIT: Make that 35 total.
I've just signed up. Very nervous given it's my first time attending one of these events, but I'm very excited!
3 Likes
The festival has NOW COMMENCED! Check the OP for your team and event links!