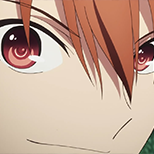 Your team could have a lasting impact on Kazamatsuri for years to come! The goal is to design the next emoji to be implemented for the Kazamatsuri forum & Discord. Submissions all ought to be 154x154 pngs (with transparency if applicable), and featuring Key characters / Key-related imagery only. Submissions will be judged by me based on their visibility, usefulness in expressing an otherwise unrepresented emotion, etc.
The winning team will receive 3 light orbs and get their emoji added to the list, and all other participants will receive 2.
This event will run until 23:59 UTC the 23rd of December.
Show me what you've got!