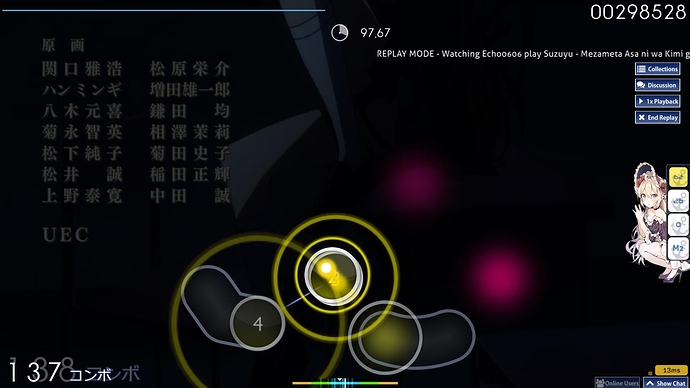 Beatmap link: https://osu.ppy.sh/beatmapsets/143812#osu/362949
played by Echo0606
For those of you that don't know what osu! is, osu! is a circle-clicking rhythm game that requires only a mouse (or any pointing device for that matter) and a keyboard.
osu! standard mode can in fact, be only played with a mouse too but using a keyboard is recommended
How many of you play osu! or wish to give it a try?
As part of the Winter Festival, there will be an osu! multiplayer event happening live at Kazamatsuri!
If interested, here are some useful links:
Each Festival participant who attends will earn a Light Orb for their team for a max of 3 per team. Others are welcome to attend as well.
There are a lot of Key music in the game which you can download so do check those out.
p.s. If you are already an osu! player and have maps that you wish to play during the event, link them on the thread!
The event will be taking place at TBD.
See you there!
When should we host it?
16 UTC Wednesday 19th
23 UTC Wednesday 19th