I am proud to be able to start this topic, because the Tales of Series is my favorite JRPG series of all time. It has been around for as long as I have been alive, but I did not discover it until I found a ROM of Tales of Phantasia for the Super Famicom, and played a bit of that. IT BLEW ME AWAY. A fighting game-esque battle system? An anime aesthetic? Top-notch Japanese voice acting? Relatable characters? Music by Motoi Sakuraba?! Sign me up!
Now, I'm not the most hardcore fan of the series (I only own eight of the sixteen mothership titles as of this post, and I have only completed two of them), but this series is a ton of fun, especially if you are as much a fan of niche games as I am. Each new game improves upon the last (with the exception of Legendia, which seems to go a step backward) when it comes to battle systems, and each one is a lot of fun to play through. There are a ton of little things that keep the games enjoyable, and almost every sidequest has something new to offer, be it titles, costumes, a powerful set of weapons, or a game-breaking spell.
The characters are the other reason this series is so popular. Every character is memorable (in a good or bad way, depending on your perception) and a lot of that has to do with the voice actors. When you've got talent like Tomokazu Seki, Kikuko Inoue, Akira Ishida, Jun Fukuyama, Norio Wakamoto, Masaya Onosaka, Nobuyuki Hiyama, Kenichi Suzumura, Chihiro Suzuki, Takehito Koyasu, Ikue Otani, Joji Nakata, Mai Nakahara, Kumiko Watanabe, Takahiro Sakurai, Kana Hanazawa, Shiho Kawaragi, Daisuke Namikawa, Miyuki Sawashiro, Tomokazu Sugita, Takashi Kondo, Daisuke Ono, and (dare I say it?) Hikaru Midorikawa, you really cannot go wrong with your characters. (I'll wait here for a while so you can look up half of those names.)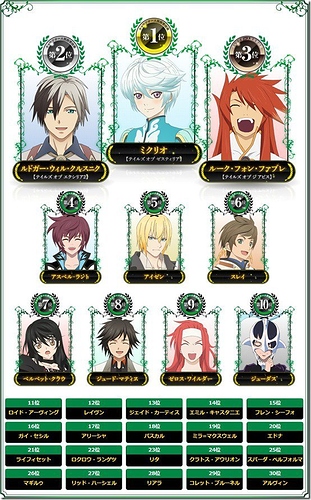 The Tales Series is also host to a myriad of music from four different composers: Masaru 'Go' Shiina, Kazuhiro Nakamura (no relation to the wrestler of the same name), Shinji Tamura (also known as Hibiki Aoyama), and the god of high-tempo battle themes himself, Motoi Sakuraba. For the majority of the series, Sakuraba does all the composing with Tamura by his side, and there is A LOT of music in these games. This music usually ranges from symphonic and even breathtaking at times, to forgettable and even ear-grating (looking at you, Graces). But for the most part, the best tracks in the game are the battle themes, and they are pretty fitting for the battles in each game. Some of Sakuraba's best work can be found in Tales of Destiny 2's soundtrack, which is full of amazing battle themes (Wheel of Fortune being my personal favorite in that soundtrack), and Go Shiina's work on Tales of Legendia's soundtrack has been widely praised for bringing a fresh air to the series. The more recent Tales of Zestiria soundtrack, where these two geniuses team up, has some of the best music in the series as a result. I recommend looking these up.

Now, are these games flawless? Absolutely not. There will be something that will turn people away from a particular game, or even the series in general. But now I want to hear what all of you have to say about the Tales of Series, be it about a single moment in a game, the entirety of the game, or the entire series itself. Please, entertain me.

EDIT - 9/21/15: Because of the massive overhaul the forum is going through at the moment, the admins demand that I clearly define what constitutes as spoilers in this thread. Obviously no one has played every Tales game (unless someone has clearly not told me that they have), so please mark any events past the first boss battle in any Tales game as spoilers. Your post will be flagged if it does not meet this guideline. That doesn't leave you guys with much, I know. But it's better to be safe than to be banned. Keep up the discussion, guys!

EDIT - 12/25/15: Slight update due to the addition of Legendia to my ever-growing collection!

EDIT - 07/03/17: Updated the popularity poll results to be more current, and tweaked some of the text due to the recent inclusion of Zestiria in my collection!

Source: http://imgur.com/a/c7uOm
Source of 2017 Popularity Poll Results: http://www.siliconera.com/2017/06/04/tales-festival-2017-character-popularity-poll-results/