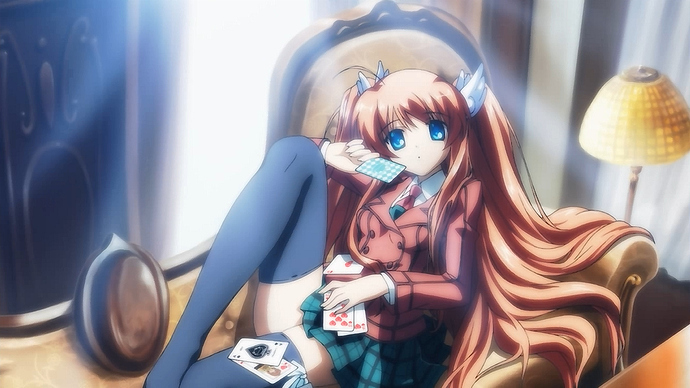 Discussion thread for Sakuya's Chihaya's arc in Rewrite. Feel free to discuss anything from the route, but mark any comparisons to events outside of his her arc and the common route with the [spoiler] tag. Her birthday is the 24th of August.
Stupid, this route was stupid, pure simplistic straight forward stupidity. There was never any other solution, 'BEAT THE CRAP OUT OF THAT GUY' was always the solution, it was always going to work out somehow.
Stupid brainless action, it's perfect for an absolute moron like Sakuya Chihaya.
It completely doesn't fit in with the rest of Rewrite, but Sakuya's Chihaya's route is so much more my flavor than the rest of the game, I love it. I love how every time it seemed like the final boss was down, another one came along with increasingly insane ways of taking them down, it was a damn joy to read from start to finish.
And that's not all, whenever there was calm, the idiots got together and provided some of the best comedy in the game, the one time it settles down for some feels with Chihaya's past, I dare say they're the best damn feels in the game. And while not exclusive to the route, I feel it used Rewrite ~Instrumental~ as power up music phenomenally, pumped up doesn't even describe what that did for me whenever it showed up.
I think a lot of people don't like because it doesn't fit the rest, I think a lot of people try and give it the same amount of thought they do the rest of the game, which isn't what you're supposed to do, afterall:
[insert image of important quote that got broken for some reason]
After the dank ass other routes, some mindless fun was a much welcome change, something I feel was needed.
What would you rate this route?