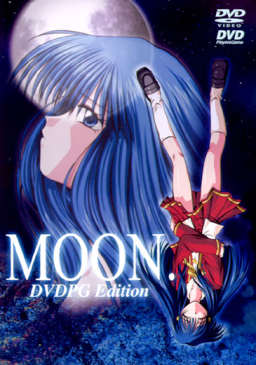 General discussion topic for the Visual Novel MOON. by Tactics. (Not to be confused with the Moon route of Rewrite). This is a full-spoiler topic. Make sure to mark references to outside works with [spoiler] tags, providing adequate context in parenthesis.
Alongside One: Kagayaku Kisetsu e, MOON. was developed by several of the founding members of Key while they still worked for Tactics, before founding Key.
Here's what help I can offer with the installation

You may immediately run into this problem when trying to install:

This happens because newer versions of windows lack compatibility for old software. Even running on Windows 10, I never had this problem, so I can't help that much, all I can recommend is trying out a Virtual Machine. I'm fairly certain the game itself is 32-bit just with a 16-bit installer, so if you can get past this you shouldn't have any more incompatibility problems (hopefully).

You may have problems if you don't let it automatically install to: C:\Program Files (x86)\nexton\Moon
After installation the folder will look like this:

And like this after applying the English patch:

Shouldn't have any problems getting to that.

Everyone who I've talked to who's gotten the game to work has run it in compatibility mode for Windows XP (Service Pack 2) and as Administrator for good measure, so it's probably a good idea to do the same.

If, when you try to run the application, you get a dialogue box that begins with "MS" followed by japanese characters, make sure your system locale is set to Japan and that you have the MS Mincho font installed. Apparently this font can just randomly disappear (this happened to me recently) but you can just re-download it without any issues.

If you get this:

It means you probably haven't installed the game properly. You should probably attempt a fresh re-install in this case.

You'll probably get this once you actually open the game:



This is no problem. It means exactly what it says. You can fix it by installing the xvid codec, but I wouldn't bother. Just click through it to get to the title screen and watch the videos from the snd folder.

Lastly, it's possible that the menu won't display properly. Once you run your mouse over the screen, it should start doing so, but if this is happening at all it probably means you're not running in administrator mode and should probably do so.
This is by no means guaranteed to make MOON. work properly. A previous situation that I attempted to assist with ended with the computer simply giving no reaction to attempting to run the application. However, there are still a small myriad of problems I can offer solutions to here.
Finally, even though we are discussing MOON. here, keep it PG.