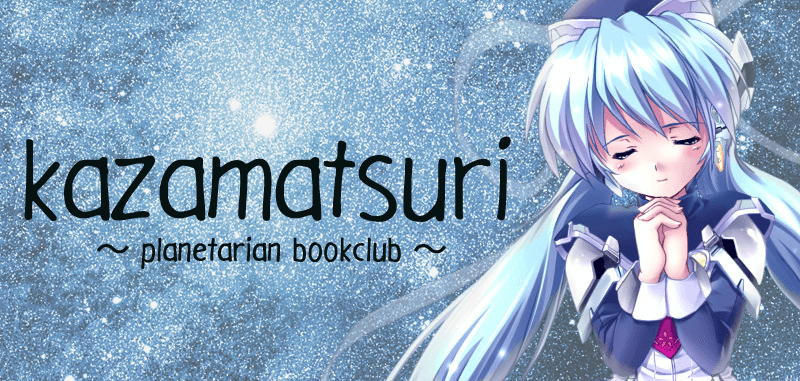 Welcome to the Kazamatsuri.org planetarian bookclub! This is our very first of the Kazamatsuri.org Bookclub, so I'm really eager to see what comes of it.
So what is the Kazamatsuri.org Bookclub? It's a huge event that will invite people from all around to join us on the forum in reading together, taking notes, partaking in discussion, sharing fanworks and just generally celebrating the work. You could say it's Kazamatsuri.org's main attraction; something I've had in mind since before the site was created.
The planetarian bookclub will start on the 12th of September, and end on the 10th of october. (Extended two weeks!) Once the bookclub has begun, everybody will be encouraged to partake in discussion of the route in question (in this case the entirety of planetarian) by posting in it's discussion thread. People will also be invited to share fanworks of the route (or character) in question, either stuff you've found or perhaps something you've produced for the bookclub itself. And at the end of the 2 week 4 week period, a podcast will be recorded by myself and a few others, bringing up our thoughts of the route we've just read, while incorporating all of the forum discussion held over the fortnight into the podcast as well. We're also looking at including recorded messages in the podcast! So if you'd like to hear your voice on the podcast, spend a minute or so recording a short message of something you found interesting about the route/game that you'd like to be brought up in our podcast discussion, upload it and link to it in the discussion topic and if we like it we'll include it in the podcast! The podcast will serve as the conclusion to the bookclub.
For the planetarian bookclub, we're also hosting a competition!
The person I decide is the 'top contributor' to the bookclub will be awarded a Key anime DVD or Blu-Ray of their choice! (within reason.)
What I'm looking for when I think of the 'top contributor' is someone who has contributed lots of engaging discussion in the discussion topic, and perhaps even produced some quality fanworks for the bookclub. These are the two things I'm on the look out for. Be remarkable!
Also worth noting, this isn't just any bookclub. Not only are we celebrating the launch of planetarian on Steam, but the planetarian 10th anniversary is coming up very soon! We'll be able to use this bookclub event as an excuse to produce fanart for the 10th anniversary as well! This is a very special celebration - the biggest planetarian celebration we'll ever have, so please contribute!
Feel free to use this thread as a general discussion/feedback on the Planetarian bookclub itself. I'll also use this topic to post updates about the bookclub so everyone can see them.
[Planetarian Discussion][1]
[Planetarion Fanart][2]
[1]: http://forum.kazamatsuri.org/t/planetarian-discussion-spoilers/34/24
[2]: Planetarian Fanart