Summer Pockets is Key's upcoming 13th Visual Novel, scheduled to release for PC on the 29th of June 2018. We'll keep this post updated with everything we know so far!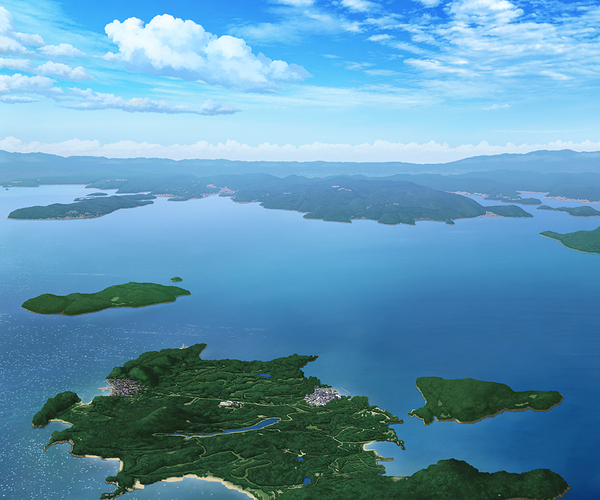 The story takes place on the small island of Torishirojima (White Bird Island), an island with a single convenience store, a grade school and middle school, and not a single traffic light.
Hairi Takahara


"When it comes down to it, I'm… like a wounded raven"
The protagonist of the story. He used to be a dedicated swimmer at his high school in the city, but after a certain incident he is now afraid of going into the water. This has affected his personality, and people at the school started treating him like a nuisance. Because of this, he's escaping to Torishirojima for the summer. Personality-wise, he's approachable and easy going. Friends at school have commented that he would probably be popular with girls if their school wasn't boys-only. It seems his grandmother passed away shortly before moving to the island.
"You probably shouldn't bother with me"
A calm and shy girl. She doesn't have any friends and the only person she is close with is her own grandfather.
She probably lets her guard down with the protagonist because he's from outside the island.
She was a loner for a bit too long, so she's somewhat socially awkward. Sometimes she completely ignores other people's feelings when she talks.
Hopefully, spending time with the other characters this summer will allow her to laugh and have fun with friends as a herself.
She has a strong longing for the city, but her feelings are complex and mixed with fear.
Height: 155 cm
Weight: 39 kg
Three sizes: 81/56/83
Hobby: Cooking
Favourite dish: Watermelon ice-candy
"Anyway, when I'm sleeping just leave me alone"
A girl who doesn't care about genders and talks to everyone like they're her friend.
She has a tendency to purposefully ignore everything love-related.
Ao acts like one of the core members of a local boy-scouts-like group. She promptly takes command of any situation.
However, because she is also the first to move on the orders she gives, she is not really suited to be in a managerial position.
By the way, she may not seem like it, but she is a closet pervert. Ao frequently mishears words and misinterprets them in a erotic way, only to become bashful herself.
She works part-time at the island's candy shop, and local kids call her "Teacher".
If she has the time she can sleep anywhere.
She also really loves ghost stories. She frequently talks about ghosts and goes outside at night.
A wild fox(?) follows her around.
Height: 160 cm
Weight: 46 kg
Three sizes: 85/59/86
Hobby: Afternoon naps
Favourite dish: Shaved ice
"Let's go. Back to the place where the pirate ship is"
A mysterious girl who is seen from time to time on the island. She always drags a big suitcase with her.
She uses the suitcase in many clever ways and when it gets annoying, she just rides on top of it.
It seems that, like the protagonist, she came to the island for just this summer.
Kamome chats with the protagonist lighthearted and casually, like he's an old friend.
For some reason, the protagonist also gets a very nostalgic feeling every time he meets her.
She has a bad habit of meddling with things out of pure curiosity and getting herself in danger, so it's sort of hard to leave her on her own.
It looks like she came to the island to search for something. In her hands is an old map… "This is a treasure map!" she says.
Height: 158 cm
Weight: 43 kg
Three sizes: 86/55/85
Hobby: Ships in a bottle
Favourite dish: Triangular shaped sweets with a secret
"I'm searching for something. I'm on a search for something to do"
A calm and honest half-German girl, she decided to use this summer vacation to, "look for things she wants to do".
She loves old things and following the rules. Her personal philosophy is, "Classic books and rules were polished over time to be as rational as possible".
Because of that, she even follows rules that clearly don't fit modern society. She is a bit lenient though, and doesn't try to force others to follow those rules.
For someone who always talks about rules and logic, whenever she loses a debate she moans with a mortifying "Mugyu~".
Even though she is a calm and collected girl and it feels like she can do anything, sometimes she just blankly stares somewhere or starts talking in monotone.
And then there are times when her clothes are frayed like she just rampaged through the mountains.
She unexpectedly has a lot of weak points.
Height: 152 cm
Weight: 38 kg
Three sizes: 78/56/80
Hobby: Collecting knitted toys
Favourite dish: Cotton candy
Staff
Jun Maeda is credited for the original concept, but is not a writer on the project.
Character Design is by Na-Ga, Tsubasu Izumi, and Yuunon Nagayama. Engiyoshi will be providing superdeformed art of the characters.
Writing the scenario are Yuu Niijima, Kai and Hasama. Niijima is known for his work on Hatsuyuki Sakura.
Music is by Shinji Orito, Jun Maeda, donmaru, Tomohiro Takeshita and Mizutsuki Ryou, all familiar faces for Key music.
Touya Okano is credited as the producer for the project, who you may remember as the writer of CLANNAD's Sunohara route.
Other Details
The game will be all-ages, and will sell for 8800 yen, and it will feature native 1920x1080 resolution. The story is designed to evoke feelings of nostalgia toward a childhood summer vacation, and the title 'Summer Pockets' refers to the word Pockets as a place where memories are kept, like how a child would go around picking up everything they find and putting them in their pockets.
You can find more info in the links below:
http://key.visualarts.gr.jp/summer/
Use this topic for any speculative discussion or to present any new information about Key's new game. Please make sure your sources are reliable. Please mark any spoilers with [spoiler] tags, providing adequate context before the tag.