Due to the recent(ish) news of Maeda Jun's mahjong twitter I decided to make a mahjong topic in case people were interested and wanted to play. This is also for people who watched Saki and were all like "wtf is going on but this yuri ship is too good so I'll keep watching." While I am not entirely familiar with the Japanese variant, I will explain that because there is no good way to play my normal Hong Kong style mahjong online. So for now we will start off with the basics.
What is mahjong?
Contrary to popular belief, mahjong is not a !@#$ing solo tile matching game with tiles organized in stupid shapes. Throw that !@#$ out of the window now. I have no idea where the hell that comes from but its bs. Mahjong is traditionally a 4-play Chinese game that uses tiles and 3 dice. And chips or whatever for counting score. The game goes in a counter-clockwise direction, with players drawing from the wall and then discarding. The Japanese variant uses only 2 dice and sticks and stuff to count score and adds a bunch of stuff that you don't really need to worry about. The object of the game is… well originally I explained this all myself but then I found things that explained Japanese mahjong way better than I ever could. So here.
Go get better explanations cuz I'm not good at Japanese mahjong
arcturus.su/~alvin/mj/sywtpmj-1.4.doc
It's a downloadable doc that you have to copy and paste into your browser thing. Teaches everything except bits of scoring I don't even know. You probably don't need any more than this anyways.
tenhou english documentation
It has English translations for a bunch of stuff on tenhou so you can use it to learn the UI on tenhou. Also has links to the first doc and other resources as well.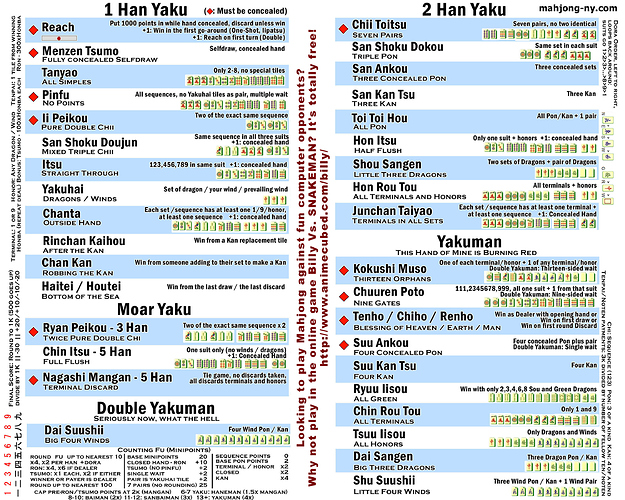 This is just an image with most of the combos and stuff on tenhou. Mostly just for quick reference.
If you are interested feel free to just comment or pm me. I can make a lobby or something if at least 3 other people want to play.
After you have read these resources you should be ready to play on Tenhou! yay!
Edit: or now Mahjong Soul!