Tsumugyuu represent! Can't help being biased as I am a long-time fan of her work, but my favorite Tsumugi art is of Remotaro's: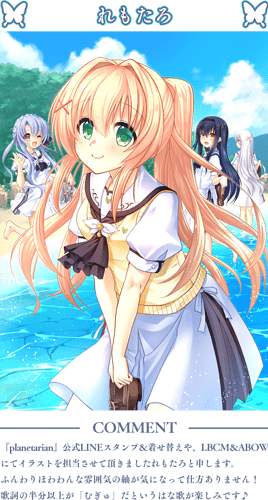 Definitely can't say no to your choices for Umi, Kamome, Shiroha and Ao though. Good taste

I definitely can't deny I'm excited to read this as well! Probably even more excited than 1st beat 3 years ago. Although I will have to put off reading it, at least maybe until I get a better tablet pc, since I doubt running a modern VN with a texthooker would go very well on a device with only 1GB of RAM

2 Likes
I forget, was it part of the joke that Kamome's favorite snack actually is a puffed corn thing
Not that I'm aware of. I just happened to see that popcorn in a store while looking at SP stuff on my phone.
Tatekawa Mako is my favourite artist of all time, it was nice that he chose to draw Ao considering him and Tsubasu are friends. It is always so cool to see artists supporting their friends work (灬´ ˘ `灬)
and Happy SamaPoke Release Day!!
1 Like