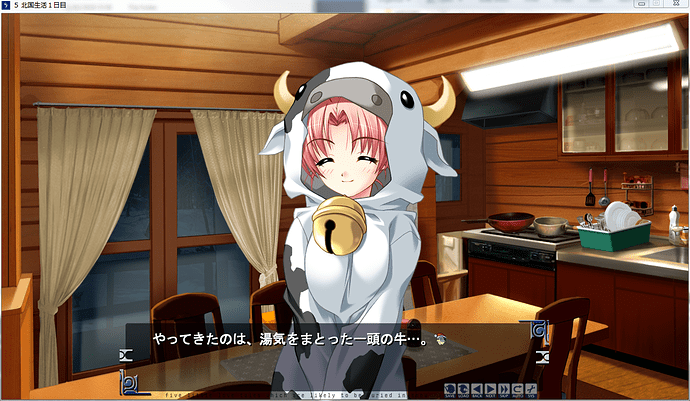 Moo moo moo moo.
Moo moo moo moo moo moo moo moo moo.
Moo, moo.
Moo moo moo moo moo moo moo moo moo moo moo moo moo moo moo moo moo moo moo moo moo moo.
This page has been detected to be in Bovine. Click here to translate.

It is with my greatest pleasure to present something that everyone has been desperately excited for.
The VisualArt's branch, RAM, has finally re-formed under a new name: EWE, to bring us this newly remastered patch of the legendary visual novel Five.
After half a day years of development, finally it can be viewed in a crisp widescreen HD format.

After 11 years of only seeing our precious Five characters in a standard definition format, finally we can appreciate them in a wider depth.
Be fully immersed in Ika's drum and bass scenes, and Honoka's nano machines.
Check out the official download link below this next section.

During development, there was actually a beta-version screenshot that was taken late during the game's development that was released. Check it out below.

You can see in this screenshot that they had plans for an HD version early on in the development.
Maybe this means that there might be an HD patch for Koigokoro sometime in the future? We can only hope.

Back to the main topic of the patch, you can find a download link below. Yeah there actually is a download link
Extract the folder into the Five installation directory (Back up the game first) and replace files when asked.
It's that simple, now you can finally Moo in HD. If it even works. Probably.

https://mega.nz/#!ZRkDAAzD!22coRutIhvzMVKxnaPchBO1wo7pX7yVtp0Pf4nZPyP4

What did you just say? You'd rather have an english patch?
Google Translated patch coming soon!

This patch is mostly incomplete but I can finish it if at least two people want me to.
System menus, CGs, and UI isn't upscaled yet. Also other stuff isn't. But main gameplay outside of cgs is fine.

Also this was actually really easy to make, anyone interested in a Kanon or Air HD patch? Maybe we could commission sprites?